Charm City C1: Maghalie Rochette continues streak with fifth straight win
Mani, McGill round out podium in Baltimore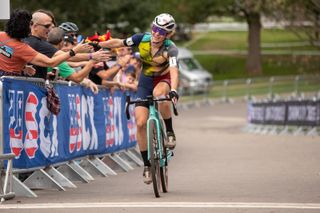 (Image credit: Bruce Buckley/Charm City CX)
Maghalie Rochette (Canyon Collective) continued her early season cyclocross romp, smashing the competition in the Charm City C1 race in Baltimore.
The Canadian attacked on the first lap and only Sidney McGill (Cervelo/Orange Living) could hold her wheel - for a while. But Rochette soon pulled away, leaving McGill to fight for the podium.
Caroline Mani (Groove Off Road Racing) came back from a slow start to bridge across to McGill on the last lap then left the Canadian behind to sweep up second place, while McGill held off Raylyn Nuss (Steve Tilford Foundation) to secure the final podium spot.
Rochette followed as McGill powered to the hole shot in the opening dash, followed closely by Mani's teammate Lauren Zoerner. But it wasn't long before the race became first a two-rider battle and then a solo effort.
"I know Sid and know that she's really good at the start and she's a really good technical rider as well," Rochette said. "She's always a good wheel to follow and a good person to ride with.
"Sidney was riding really well. I couldn't shake her and I tried a few accelerations and she was still there. I know if it's a one on one battle I'd have to test her out. On the climb before the off-camber - I know it's the hardest technical part of the course - so I tried to go there and see how she would respond and I got a gap right away."

Thank you for reading 5 articles in the past 30 days*
Join now for unlimited access
Enjoy your first month for just £1 / $1 / €1
*Read any 5 articles for free in each 30-day period, this automatically resets
After your trial you will be billed £4.99 $7.99 €5.99 per month, cancel anytime. Or sign up for one year for just £49 $79 €59

Join now for unlimited access
Try your first month for just £1 / $1 / €1