Charm City C1: Ferdinande takes narrow victory over Strohmeyer, White
Belgian nearly pipped at the line by fast-sprinting American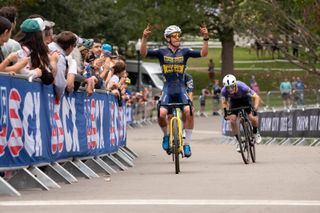 (Image credit: Bruce Buckley/Charm City CX)
Anton Ferdinande (DHM) claimed a hard-fought victory in the C1 Charm City cyclocross race, narrowly holding off a fastly approaching Andrew Strohmeyer (CXD Trek Bikes). US champion Curtis White (Steve Tilford Foundation) was third.
The win turned around three podium finishes in the season but no wins.
"I had a really good feeling and was waiting, waiting, waiting. I know that going hard on the big climb but I was not in a very good position and had to take a lot of risks in the last lap, but finally I win," Ferdinande said.
"Strohmeyer has been riding very fast in the last weeks, the guy is strong. Curtis has a lot of experience and he made it hard on the last lap."
Strohmeyer threw his bike at the line and came within centimetres of denying the Belgian but had to settle for second.
"Before the race I had two ideas. One was either sit in and kind of see where things were. The other one was make this the hardest hour it could be so yeah, I sat in today, maybe it was better. Maybe it wasn't."
Scott Funston (WTB/Pivot Endurance) took the hole shot but soon faded back as Anton Ferdinande (DHM) set a brisk pace on the opening lap, followed closely by US champion Curtis White (Steve Tilford Foundation), Vincent Baestaens (Spits CX Team), Loris Rouiller (Heizomat-Kloster Kitchen), Andrew Strohmeyer (CXD Trek).
These five riders separated themselves from the field with four laps remaining before an attack from Ferdinande split the lead group. At the start of the third to last lap, Strohmeyer was only a few seconds behind the Belgian with Rouiller and White not far behind.
Strohmeyer made it across to Ferdinande on the third to last lap while behind, Rouiller lost contact with White, who made his way across to the leaders for a three-man fight for the victory.
White led into the tricky off-camber and powered into the technical forest section but lost a battle with Ferdinande for the front into the last section of turns.
The Belgian motored into the flyover that came just before the finishing straight, opening a gap on his rivals and holding on to the finish line. Strohmeyer got the better of White in the sprint for second.

Thank you for reading 5 articles in the past 30 days*
Join now for unlimited access
Enjoy your first month for just £1 / $1 / €1
*Read any 5 articles for free in each 30-day period, this automatically resets
After your trial you will be billed £4.99 $7.99 €5.99 per month, cancel anytime. Or sign up for one year for just £49 $79 €59

Join now for unlimited access
Try your first month for just £1 / $1 / €1