Oakley cycling glasses: A comprehensive overview
12 styles for any cycling discipline, plus all about those Prizm lenses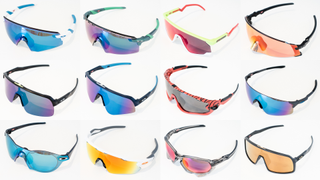 (Image credit: Will Jones)
In the days of Fausto Coppi, cyclists would wear what we'd now think of as 'normal' sunglasses (Persol ones in the case of Coppi, if you're interested). Nowadays Oakley is still the most recognisable brand in sports eyewear, especially in cycling. Since 1985, and the iconic Eyeshade glasses, it has been at the forefront of performance sunglasses. Since then we have had the Razor Blades, perched on the face of Greg LeMond, and the M-Frame, on the face of Lance Armstrong. In the late 90's the brand went a bit wild with models like the Over The Top as sported by David Millar, fortunately with a TT helmet to cover his frosted tips.
Since then the number of cycling-specific, or at least sporting performance models has proliferated greatly. Gone are the Jawbones beloved by Geraint Thomas, but in their place we still have the Jawbreaker, Sutro, Encoder, Flack and many more. Below I'll take you through the lot, with info on fit, function, drawbacks and advantages, as well as an explainer on the different lens options that Oakley offers.
Now, Oakley is just one brand, and there are plenty of others on the market making fantastic options. Having now tested well over 40 pairs I've put together a comprehensive guide to the best cycling glasses on the market, so if you're not dead set on Oakleys then you'll almost certainly find an alternative in the mix there, along with some answers to more generic questions, like "why do cyclists wear such massive sunglasses?".
Oakley cycling glasses
Best overall
The Encoder are my favourite pair of cycling glasses, not just from the Oakley range, but out of all the cycling glasses I have used. You get incredible retention, thanks to a combination of the upper lens ridge and lots of grippy O-Matter (the tacky rubber bits used on the arms and nose), and a more or less uninterrupted field of view. The only thing that bothered me was the nosepiece is rather large, but while out riding it never really entered my consciousness. They also play really nicely with more or less any helmet I've tried, thanks to additional grippers at the temples, which is a real benefit if you like to take your glasses off on climbs. I've penned a full review of these if you want a deeper dive into the upsides.
The best, but better?
Oakley has a habit of releasing a model, and then down the line releasing a newer, tweaked version. The Encoder Strike is more or less identical to the standard Encoder, save for a slightly deeper, more square-edged lower portion of the lens, and some rectangular holes for ventilation at the upper ridge. You get the same great retention but with a marginally better field of view. I never found the standard encoders fogged up except in extreme conditions, so unlike the differences between the Sutro and Sutro Lite, you can treat the choice between the Encoder and the Encoder Strike as purely an aesthetic, or financial one.
Best peripheral vision
The Kato is a very striking model, so be prepared to get some attention. It's similar to the Encoder but with a lens that covers your nose and a much heavier wrap. They feel similar to the POC Propel glasses in many ways, as they are also quite a shallow lens. The peripheral vision they offer is second to none, and will really come into their own if you have a helmet that sits quite low on your forehead as the helmet won't ever go low enough to start pressing them into your nose. The only major downside to these that I found was that they feel rather breezy behind at high speeds compared to many others, but you can read all about that in my full review.
The retro option
Oakley has made some absolute classic glasses in the past and has also re-released some of them with modern lenses and materials (the Frogskins, Razor Blades, and the original Eyeshades all had this treatment). Nowadays though you can only get hold of these models on eBay. The Hydra though clearly takes its design cues from the original Razor Blades, but brought bang up to date with Prizm lenses. Like the original Razor Blades the arms are just plastic, so if you've got a small head they may not retain as well, but the nose grippers do an admirable job on my pea-sized bonce. If you want to look like you've ridden straight from the late 80's then these are the pair for you.
Maximum coverage
While you can't get new Eyeshades anymore, the Sutro is the next best thing. The lens is enormous and relatively flat. The field of view is actually similar to those lenses with a greater wrap like the Encoder, so you can still see the frames in your eyeline, but the protection from the wind, and from debris is improved. The standard Sutros fall down a bit of you've got a small face though, as they only have a nose gripper; the Sutro Lite and Lite Sweep both have arm O-Matter as well as nose grippers. These are a real mainstay of the pro peloton now, and given the pros on Oakley sponsored teams can usually choose any model, that says something.
An improved Sutro
If you aren't dead set on the full frame look of the standard Sutro model then I suggest the Sutro Lite is a better option in terms of performance. The loss of the lower half of the frame is an aesthetic modification, but it does mean your eyeline is less obstructed. The field of view and protection on offer is nearly identical, but the Sutro Lite has tacky rubber O-Matter inside the arms, meaning they grip smaller heads like mine noticeably better and you won't have to keep pushing them up your nose every now and then, especially over rough ground. Our full review will tell you more though.
The new Eyeshade
Maybe you don't want the very rectangular look of the Sutro or the Sutro Lite. If that's the case then there's the Sutro Liter sweep, which is identical to the Sutro Lite (crucially in the arm gripper stakes too), but brings the lower lens up at an angle. This is particularly helpful if you find your cheeks lift big glasses up off your nose when you smile. Crucially if you live somewhere super humid, or if you ride in the cold a lot, the Sutro Lite Sweep comes in a vented version with circular holes at the top, which gives off much of the same vibes as the original Eyeshade. It's worth noting that while you can interchange between Sutro Lite and Sutro Lite Sweep lenses, you cannot use the standard Sutro lenses in the Lite frames.
Easy lens swaps
While many of the Oakley glasses in the range can have different lenses installed, for many it's either a bit of a faff that makes it feel like you're going to snap something, or not possible at all. With the Jawbreker it's dead easy; simply flip the nosepiece up and in, and the bottom half of the frame will hinge downwards, so you can slide the current lens out and swap a new one in. They hold very well, though the arms are rather narrow so not as comfortable as the Encoder. What's more, while they were considered abnormally large when they were released they are pretty conservative by modern standards so the field of view is a little smaller. For winter though, or if you want to run a clear lens for something like cyclocross, these are a winner in my book.
The lightweight option
Lightness permeates everything in cycling to some degree, and sunglasses are no different. The EVZero Blades are the lightest glasses I've ever tested (yes, I weigh them all), and while you may wonder if a few grams make a difference I can assure you it does. I don't think it's going to help you much uphill, but it does make them fantastically comfortable, and the frameless design and moderate wrap give them an excellent field of view. The only downside I've found is that, unlike the Encoder which has a lens ridge, the lens itself is rather flexible, so they don't grip your temples quite so tenaciously. If you like to feel totally unincumbered then these are the pair for you.
The 90s are back
The original Oakley Zero and Subzero were a pair of radical new models that the brand released in the mid-90s that then eventually spawned the famous Over The Top model. If you miss the days of cargo pants and Nu-Metal, or just want the most out-there glasses on the club ride then these are for you. They grip well, despite the lack of arm grippers, but the lenses are tilted noticeably forward so if you're riding in a very aggressive position you will find yourself looking over the top of the lenses. That being said, you still get all the clarity that Prizm offers, just don't expect the same field of view on offer from the Sutro.
The multi-sport option
Let's be real, cycling glasses look pretty rogue off the bike. If you rocked up to the pub in a set of Encoders you'd get some funny looks, unless you're also in cycling kit. If you want a set of decent sunglasses that cover not only cycling but more or less any other activity then the Radar EV Path is likely going to be your best bet. Based on the original M-Frame you're just as likely to see these in use by cyclists as you are hikers, baseball players, golfers, boat people, or drivers. They are a modern classic, though with a field of view smaller than that of massive monolens options. The only real irritation I found was that the frames sit very close to my eyebrows, but unless I was surprised by something this rarely became an actual problem.
Geraint Thomas cosplay
For years the combination of Geraint Thomas and a set of white Oakley Jawbone glasses was an instantly recognisable sight, even after the model was officially discontinued he still had them on his face. Team Ineos eventually switched to Sungod, prompting the brand to try and recreate the look, but to my mind without much success. If you want to play as Geraint Thomas while riding then a set of Plazma glasses will be the best option (in white, of course). If you're not sold on the idea of big, single-lens glasses then these are a really great alternative, with all the same lens tech as the other options but a very different visual package. In reality, they actually feel extremely protective as the lenses sit so much closer to your eyes, but they do suffer in hot weather from feeling a little stuffy.
Oakley lenses
If you have decided to kit yourself out with a pair of Oakley sunglasses you're going to be faced with a choice of lenses and will come across some jargon that I'm going to try and demystify, as well as give you some helpful pointers.
My main advice is that, if you are mainly riding on the road, you should opt for the Prizm Road lenses unless you have a good reason not to (like them not matching your helmet). They are the best on the market, with the best clarity and contrast, and are useable in the widest range of light conditions, from bright sunshine to near dusk.
Other Prizm lenses are available; sapphire, jade, 24k (gold, to you and I), black and several more. There's even a trail-specific model, which is tuned to off-road riding. They all perform very well indeed, though none quite match. The 24k gold lens is the darkest of the lot though, so if you're riding in blazing sunshine all the time then these will be a better option, and likewise, the Prizm Low Light will be best if you're constantly riding in overcast conditions.
Bear in mind that not all (though most) models can swap lenses, so you may have to commit, and Oakley replacement lenses aren't cheap. They also rarely if ever come with a clear replacement, unlike those from other brands.
Non-prizm (i.e. the 'normal' range) offer the same sun blocking and tints as the Prizm range, but don't have quite the same levels of contrast; effectively the Prizm range marries an orange-ish base lens with a reflective surface coating to give the boosted contrast.
Finally, you have polarised lenses, offered on some but not all models. In my experience, polarised lenses offer little advantage to the cyclist, and often make it harder to see standing water coming at you fast.
How to choose the best Oakleys for you
Still have some questions? Well, hopefully, I can answer them. Given the variety of models and lenses and the fact that the pro riders all seem to choose different options for different races, it's hardly surprising.
Why is Oakley so expensive?
Well, in the context of cycling glasses, they really aren't. I'm not saying they're cheap by any means, with most pairs setting you back £120 or more, but on the whole, they're not usually more expensive than models from POC and 100%.
Is Oakley Prizm better than polarised?
For cycling, yes I'd say so. Polarised lenses, as mentioned above, block the reflections from standing water you you may not see it at speed and plough through a puddle unexpectedly. Polarised lenses aren't really going to be a drawback, but between the two I'd recommend Prizm, especially Prizm Road unless you're riding off-road.
Do Oakley lenses scratch easily?
No more than those of any other brand in my experience. The super reflective nature of the outer lens coating does make scratches more apparent though, so look after them and wash them under a tap before you scrub them with the microfibre bag if you suspect there's grit anywhere on them.
What colour Oakley lenses are best for cycling?
The Prizm Road lenses are the best option, but any of the Prizm range will stand you in good stead. If you're riding a lot in low light the the Prizm Low Light is a great option, and for really bright days go for Prizm 24k.
Get The Leadout Newsletter
The latest race content, interviews, features, reviews and expert buying guides, direct to your inbox!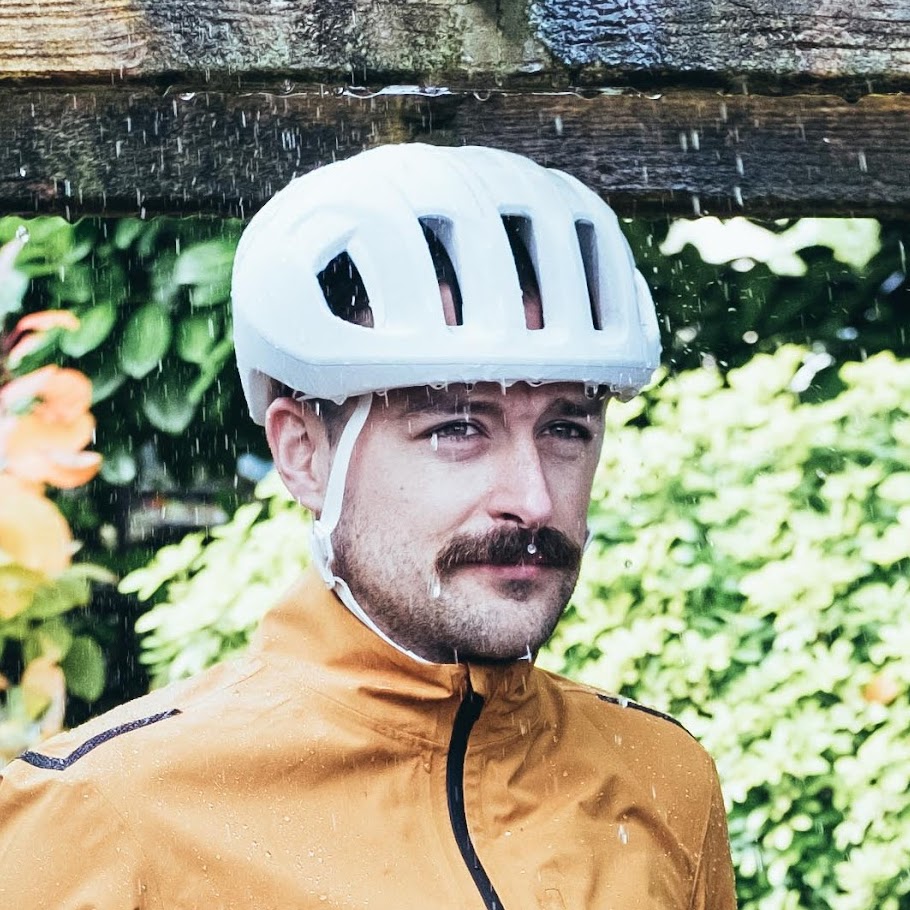 Will joined the Cyclingnews team as a reviews writer in 2022, having previously written for Cyclist, BikeRadar and Advntr. There are very few types of cycling he's not dabbled in, and he has a particular affection for older bikes and long lasting components. Road riding was his first love, before graduating to racing CX in Yorkshire. He's been touring on a vintage tandem all the way through to fixed gear gravel riding and MTB too. When he's not out riding one of his many bikes he can usually be found in the garage tinkering with another of them, or getting obsessive about tyres. Also, as he doesn't use Zwift, he's our go-to guy for bad weather testing... bless him.
Rides: Custom Zetland Audax, Bowman Palace:R, Peugeot Grand Tourisme Tandem, Falcon Explorer Tracklocross, Fairlight Secan & Strael