Best winter cycling shorts 2023: Stay warm this winter with some thermal bib shorts
Ten of the best winter cycling shorts for high-tempo foul weather riding
BEST WINTER CYCLING SHORTS
1. Quick list
2. Best Overall
3. Best Budget
4. Best For Racing
5. A Cargo Option
6. Most Visible
7. Best For Rain
8. Also Tested
9. How to choose
As the seasons change and the weather begins to turn foul we all look to warmer gear to keep us riding. For many, winter means a set of the best winter bib tights, but that needn't be the only option. My preference is instead to use a set of the best winter cycling shorts in combination with a set of the best leg warmers for a warm, but more adaptable system that keeps me covered not only for deep winter but also those milder spring and autumn rides.
Below are my ten favourite pairs, having tested far more than that. Some are general purpose that'll keep you covered for all types of riding, and some are more race-oriented and offer things like a more compressive fit. Some offer windproof panelling and water-resistant DWR treatments to keep the rain off. All are insulated though, to provide warmth, and that's the main thing.
Quick List
The best winter cycling shorts available today
You can trust Cyclingnews Our experts spend countless hours testing cycling tech and will always share honest, unbiased advice to help you choose. Find out more about how we test.
The three options above are excellent, and of the ten I've outlined in this guide they are the three I keep coming back to more than the rest. That being said, every pair of winter cycling shorts here is excellent and has its merits. Just like the best road bike saddles, cycling shorts are a personal choice. If you've got on with a pair of the best cycling shorts in the summer from a particular brand, there's every chance you'll like its winter offerings too, so use that as a jumping-off point.
The best winter cycling shorts
Best Overall
1. Universal Colours Chroma Thermo Merino Plus
Best overall
Specifications
Water Resistant:
DWR coating
Reasons to buy
+
Best insulation
+
Breathable
+
Warm when wet
Reasons to avoid
-
DWR not the greatest
-
No real windproofing
These Chroma Thermo Merino Plus bib shorts from Universal Colours are my favourite primarily for one reason, and that's the way they insulate. In most winter cycling shorts you get fabric that's backed by a synthetic fleece (often referred to as 'Roubaix' fabric). Here, though, the insulation is provided by tiny loops of a merino blend, that has the look of the fluffy side of Velcro but is significantly more comfortable.
Unlike the Sportful Fiandre or the Castelli Nanoflex, the durable water repellent isn't all that good, but it doesn't really matter as, unlike the fleece-backed fabrics, these stay warm even when completely sodden. The more open pile of the Merino lining is similar to that seen on Merino-lined wetsuits and works in much the same way. The other advantage it has, being so open, is that when the mercury rises they breathe noticeably more than other thermal shorts, meaning they can be used over the greatest temperature range of any on this list.
The only real downside to them is perhaps their wind resistance. On very windy days you'll feel a chill through them where you wouldn't in shorts with wind-resistant panelling like the Rapha Pro Team Winter bibs for example. Sure, the fit isn't hyper-compressive, but it's snug enough, and in combination with wide but firm straps and a solid back panel they absolutely stay in place for all of your needs.
They also come in brown, which I absolutely love.
Best Budget
2. Endura FS260-Pro Thermo
Best value
Specifications
Water Resistant:
DWR treatment
Reasons to buy
+
High stomach
+
Zippered front
+
Great grippers
For a smidge over the £100 mark, the FS260-Pro Thermo bib shorts from Endura definitely give you the best bang for your buck in my opinion. They're not as wallet-friendly as the slightly cheaper dhb option, but for the slight uplift in price, you get a much more premium-feeling set of winter cycling shorts.
To kick off the shorts are designed with a high stomach, and a back pannel that hugs the kidneys, meaning not only do your upper legs feel warmer, but your lower torso too. Fortunately for ease of getting changed, or accessing yourself at the cafe stop there is a front zipper.
The fit isn't so compressive as other options, save for the tenacious leg grippers, but you're still getting a fleece-backed fabric and a DWR treatment, although one that wasn't so effective as that of the Sportful Fiandre. There's no windproof panelling, but especially with a set of the matching FS260-Pro Thermo leg warmers I never really felt held back on that front.
If you're just getting started with winter cycling my advice would be to start here if you can, rather than going for the very cheapest you can find. You'll have a more enjoyable time.
Best For Racing
3. Rapha Pro Team Winter
Best for racing
Specifications
Windproofing:
Front panels
Water Resistant:
DWR treatment
Reasons to buy
+
Compressive fit
+
Well thought out panels
+
Chamois positioned for aggressive riding
If I'm heading out for a fast, hard winter ride, these are the shorts I reach for. The Rapha Pro Team Winter bib shorts are easily the most compressive of the cohort, with fabrics and grippers that are more rigid feeling than the rest. They feel in many ways like other Rapha bib shorts (you still get a thicker than usual chamois pad for instance), but they've been tweaked in a very sensible way.
Instead of an all-over approach, Rapha has opted to make the front and side panels, covering the quads and also the crotch, from a thicker, more wind-resistant fabric, while the rear is thinner. When you're flying along this definitely does have the desired effect, and I suspect too a whole short made of the material the front is made of would be too compressive. As it is these are supportive, but also let a fair amount of heat dump out of the rear panels when you're really giving it beans.
Even if you're not riding at full gas, if you generally ride in a relatively aggressive position then these are worth considering as the chamois is definitely positioned for that style of riding. As well as being more windproof than more or less any on the list, the front shrugs off rain fairly well too. My only real qualms are that the navy options come with white straps, and as a tall person, this often peeks out from under a jersey in an unsightly way.
A Cargo Option
4. Le Col Sport Cargo Thermal
Best for pockets
Reasons to buy
+
High front
+
Long legs
+
Seinsible pockets
While summer-weight cargo bib shorts are now a well-established market category, thermal versions are few and far between. The Le Col Sport Cargo Thermal feel in many respects similar to the Endura FS260-Pro Thermo, but in this case, you get two large pockets on the outside of each leg Unlike summer cargo bib shorts though Le Col has sensibly not bothered putting any on the small of your back, correctly assuming that in colder weather nobody is going to unzip two or even three layers and hoik them up to access them.
The high stomach matches that of the Endura model, though the absence of a front zip does make nature breaks a little more tricky in terms of access. The high back and sides do make for a cosy midriff though.
There isn't any difference in the materials for the legs, besides oddly the Le Col logo panel, which is slightly less thick, but not in an area that really makes a huge deal of difference, especially not when paired with some leg warmers.
The best thing, perhaps thanks to the long leg length, is that the pockets themselves are easily deep enough to accommodate even large phones, as well as the usual snacks and warmers. Too-small leg pockets annoy me, but that's not an issue here.
Most Visible
5. Castelli Tutto Nano
Best for visibility
Specifications
Water Resistant:
Nano Flex DWR
Reasons to buy
+
More-than-token reflective details
+
Nanoflex DWR at lower price
+
Few seams
Reasons to avoid
-
Low front
-
Italian sizing
The Tutto Nano bibs from Castelli share a lot of details with the more expensive Nano Flex Pro Race option but with a lower price and, importantly, a pair of sizeable reflective patches on the back of each leg.
Winter riding, which is obviously what's going on when wearing winter cycling shorts, takes place in the dark. As well as slapping on a set of the best bike lights, adding reflective details makes you more visible to traffic. A lot of winter cycling shorts have token reflective tabs that don't amount to much more than a tick box on a spec sheet, but these have two half-moons behind the knee. They don't rub either, even though they look like they would.
As well as being the Safety First option, they're also just a solid pair of winter cycling shorts. The Nano Flex water repellency (utilising microfilaments, rather than a chemical treatment) is effective, the leg grippers are wide and strong, and there is only really one seam of note on the legs so they never rub or irritate.
The front is a little low cut for my liking, so they don't feel so cosy as others, and they do size in a distinctly Italian way; opt for a size up from your usual if you're in any doubt.
Best For Rain
6. Sportful Fiandre Norain Pro
Best for downpours
Specifications
Water Resistant:
Nano Flex DWR
Reasons to buy
+
Best DWR
+
Excellent straps
Reasons to avoid
-
Italian sizing
-
Low front
-
Long legs may be too long
Sportful's Fiandre Norain Pro bib shorts sit somewhere between the Tutto Nano and the Nano Flex Pro Race from Castelli. The same parent company owns both Castelli and Sportful and to some degree, there is overlapping tech. Castelli's Nano Flex DWR treatment is a solid mainstay of winter gear (seen in arm warmers, leg warmers and shorts) and Sportful's 'nano technology' is just another name for the same thing.
In practice though these shorts lived up to their name by repelling water the most solidly of any on this list. Even in a downpour, they shrugged off the majority of the rain. They're cut more like a summer short, with a low front like the Castelli options, and size small like them too, but in combination with the matching Norain leg warmers you'd be well set for a showery ride.
The fit is more compressive than that of the Tutto Nano, and the straps and mesh back are lower profile. If you like the idea of a racy set for high-tempo riding, but the lack of leg grippers on the Nano Flex bibs gives you second thoughts then go for these instead. The legs, oddly for Italian bibs, are extremely long. I am cursed with long elegant pins and the leg grippers finish just above the knee, so if you're not quite so rangy in the limbs then you may find they sit on your knee, which will be annoying.
Also Tested
7. Castelli Nano Flex Pro Race
Another excellent high tempo option
Specifications
Water resistance :
Nano Flex DWR
Reasons to buy
+
Extremely comfortable
+
Solid DWR
Reasons to avoid
-
Low front
-
Lack of leg grippers needs shaved legs
Chamois comfort aside (as that has a lot to do with personal choice and anatomy) the Nano Flex Pro Race bib shorts definitely have the most comfortable lowers of the bunch, primarily because they've totally eschewed any leg grippers. That's right, no little elastic, silicone-dotted strip to hold them in place; the material just stops above the knee. Much like the Tutto Nano they also have only one real seam, so there are no rubbing issues in that department either.
What you get is a lightly compressive (somewhere just less than the Fiandre Norain 2) set of winter cycling shorts with an excellent DWR and a triad and tested chamois pad.
The low front is definitely cut with aggressive riding positions in mind, which makes sense but they do feel consequently less cosy because of it. The straps aren't as comfortable as those of the Fiandre, but that's the only real trade-off to improved leg comfort.
They're fleecy and warm, but to the same degree all over rather than with any strategic panels. One thing to bear in mind besides sizing up is you'll want shaved legs or they'll be far more likely to ride up given the lack of grippers.
8. Sportful Bodyfit Pro Thermal
Best for coverage
Reasons to buy
+
Maximum coverage
+
High stomach
Reasons to avoid
-
Knee flaps will be annoying for some
-
Straps not the most comfy
These winter cycling shorts are definitely not going to be for everyone. The knee flap is novel, it's more or less the USP of the Bodyfit Pro Thermal from Sportful, but there's more to these than just an odd knee design.
The shorts are long, even discounting the knee extensions, but don't have a gripper as such. Instead, below the long leg sections is another section of non-fleece-backed fabric that acts as both a knee cover and a pseudo gripper. This, in combination with a higher stomach and back than the brand's Fiandre makes them certainly a cosier option.
They don't feature the 'nanotechnology' (Nano Flex by another name), so more of a cold option than a cold and wet one, but they are definitely cosy, especially in combination with some leg warmers as these negated the only real irritation I had which was having a leg truncate at the crook of my knee.
The straps, and particularly the waist, I found a little scratchy, but this is easily negated by the use of a base layer, which let's be honest we're all going to be using for winter riding anyway so it's hardly a criticism.
Curiously, there are two pockets on the rear, though as I mentioned with the Le Col pair, pockets in the small of your back are only useful for things you won't need to access during the ride; keys, or other essentials basically.
9. dhb Classic Thermal
A solid budget option
Reasons to buy
+
Low RRP
+
All fleecy everything
Reasons to avoid
-
Leg grippers not the best
If price is your main criteria, or you know you're absolutely going to trash them (I used my own pair of these for cyclocross for a few seasons for this reason), it's hard to overlook the dhb Classic Thermal bib shorts. I have the 'bib knicker' version, which basically just has a built-in knee warmer, but the shorts are identical in all other respects.
They don't feel as premium as... well, more premium options, but they're more than acceptable especially given the low RRP. You get fleecy legs, two pretty sizeable reflective strips on the thighs, and even fleece-backed straps.
A high stomach and back does mean they too are a cosy option, but they aren't as compressive as most other options, and the main material feels a little thinner. That being said, they feel very similar to the Sportful BFP Pro shorts in the leg, but with a more comfortable stomach. Personally, I find a high stomach that's too compressive a little uncomfortable at times (big cafe stops are my jam...), but that's not an issue here.
The leg grippers mirror that of the basic dhb leg and arm warmers, meaning a narrow silicone strip with an elasticated back. They're genuinely fine on shaved legs, and given the Castelli Nano Flex shorts don't have one at all it's a minor criticism, but if you're a hairy-legged person then they may well be more prone to riding up.
10. Assos Equipe RS Spring fall S9
A novel chamois design
Specifications
Windproofing:
Crotch panel
Reasons to buy
+
Cosy bits
+
Straps keep chamois in place
+
Luxurious feel
Let's address the elephant in the room first... these are the only winter cycling shorts that appear to have put proper research and development time into the male anatomy. The chamois pad comes all the way up the front, with a designated pouch for your genitals. It sounds strange, it sounds a bit kinky, and to be honest it does look a little like you're wearing an adult nappy when you're not on the bike, but it really does seem to hold things in place gently but securely
This chamois extension, combined with a windproof crotch panel, does wonders for the cosiness of one's most private areas and helps avoid the cold weather 'Sports Acorn' phenomenon more than any other. The chamois is also detached from the shorts along its sides, allowing it to move freely. In practice, while wearing them, you wouldn't tell though, as the straps are excellent at holding everything in place.
The straps are noticeably wide-set, as is the norm for Assos, but at the rear, they are attached in two places. One at the top of the back panel, and again further down. This has the effect of hoiking everything into place the more you bend forward, meaning everything feels more secure in an aero riding position.
The low stomach, and low back too for that matter, are much more reminiscent of summer bib shorts. If you like a free tummy, then these are an excellent option, and the lowest of the bunch too. They're attuned, much like the Rapha Pro Team option, to higher tempo riding, and have a reasonable level of compression that, in combination with very luxurious feeling fabrics, makes everything feel rather plush.
The leg grippers don't have any tacky silicone on them, relying on simple elastic and the compression of the legs. They are not uncomfortable though, but as per the Nano Flex bibs, they'll be better with shaved legs.
How to choose
Still confused? That's ok. A lot of the questions you may have are also probably covered in our bigger guide to the best cycling shorts, but there are a few winter-specific questions that I've tried to answer below.
Are winter cycling shorts worth it?
I suppose that depends if you want to stay warm or not. For years in my early cycling career, I soldiered through the winter with my summer bib shorts and increasingly threadbare pairs of leg warmers and it was pretty hellish. Trust me, having your engine room warmer makes a big difference. What's more, you'll get more use out of winter bib shorts than you will from bib tights, as you can use them on cool-but-not-cold days in autumn and spring.
Why not just get bib tights?
In short, because you'll get more use out of them. With a set of leg warmers, you have the same lower leg coverage, and more upper leg coverage than bib tights (as you're essentially double-glazing your thighs). Bit warmer? Swap to knee warmers only. Warmer still and you can wear them standalone. This also means you can adapt your lower leg setup for how hard you're riding; if you're racing cyclocross for example you can wear them with just a coat of embrocation on your lower legs.
Do leg warmers go under or over cycling shorts?
Under, always under. Leg warmers usually have a gripper on the inside to grip onto your thigh, and a gripper on the outside too, to grip to the inner fabric of your shorts.
Are winter cycling shorts waterproof?
No, but often they come with a DWR (durable water repellant) coating, and so can shrug off even a moderate downpour. All of them though will wet out with protracted exposure to moisture, but whether it's merino wool blend or synthetic fleece they all do a far better job of keeping you warm when wet than summer bibs will.
What should I look for in a pair of winter cycling shorts?
The same really as you would in any other pair of cycling shorts; that being a snug fit that isn't restrictive, a quality chamois pad, and straps that aren't going to cut into your shoulders.
On top of that, you can consider whether you want a higher stomach for extra midriff warmth, DWR coatings, windproof fabrics, and what kind, if any, of leg gripper you want.
How do we test winter cycling shorts?
Sadly for me it means lots of riding in the wet and cold while my Editor sits in his garage on Zwift. Truth be told I genuinely enjoy the onset of bad weather, as there's nothing quite like riding in absolutely foul conditions in gear that keeps you protected.
While most of you will check the weather forecast and pencil in sunny (or at least dry and dark) days for riding, I do the opposite, and head out in the rain and the wind to see that stacks up against the worst that the British winter can throw at me.
Get The Leadout Newsletter
The latest race content, interviews, features, reviews and expert buying guides, direct to your inbox!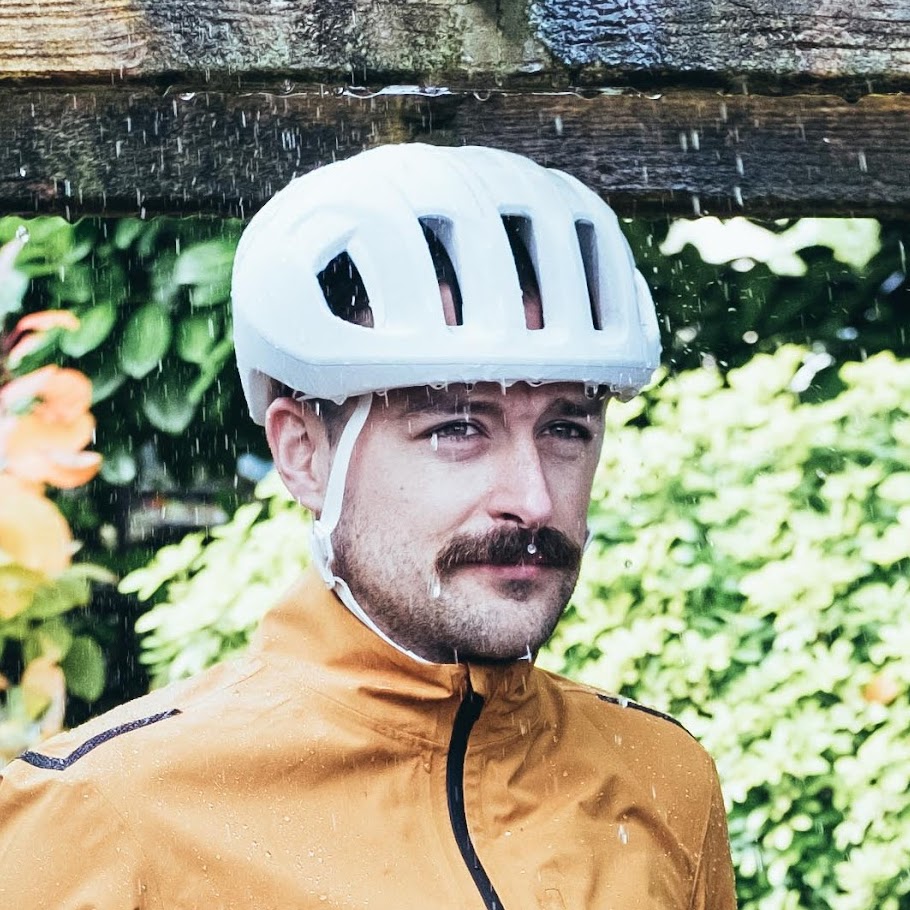 Will joined the Cyclingnews team as a reviews writer in 2022, having previously written for Cyclist, BikeRadar and Advntr. There are very few types of cycling he's not dabbled in, and he has a particular affection for older bikes and long lasting components. Road riding was his first love, before graduating to racing CX in Yorkshire. He's been touring on a vintage tandem all the way through to fixed gear gravel riding and MTB too. When he's not out riding one of his many bikes he can usually be found in the garage tinkering with another of them, or getting obsessive about tyres. Also, as he doesn't use Zwift, he's our go-to guy for bad weather testing... bless him.
Rides: Custom Zetland Audax, Bowman Palace:R, Peugeot Grand Tourisme Tandem, Falcon Explorer Tracklocross, Fairlight Secan & Strael