Loana Lecomte wins muddy Mont-Sainte-Anne World Cup
Jenny Rissveds second, Puck Pieterse third and takes XCO overall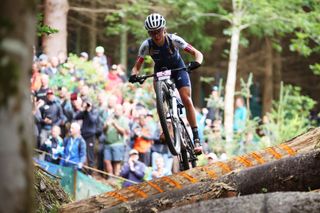 (Image credit: Getty Images)
In complete control in one of the most difficult days this season, Loana Lecomte (Canyon CLLCTV) overcame an early flat tyre and a crash in the Cross-Country Olympic (XCO) race to win the last UCI MTB World Cup at Mont-Sainte-Anne, Canada.
The French National Champion used her mastery on the descents to close down gaps after she had to get a rear wheel change on the first of five laps. Even a later crash could not stop her as she pursued her mission to get to the front. Two laps later, she connected with the front duo of Puck Pieterse (Alpecin-Deceuninck) and Jenny Rissveds (team 31 Ibis Cycles Continental) and with one lap to go, Lecomte had powered away.
"It's a very big surprise. I know that I was in good shape. I didn't know how race would be because, in this condition, it's totally crazy," Lecomte said of her second XCO World Cup victory this year.
Lecomte crossed the line with a time of 1:28, 15 seconds ahead of Rissveds. Pieterse took third.
"I'm very happy about my performance on the hill [descent]. And I felt good in the climb too. So yes, flat tyre in the first time of the year or since I am in Canyon – it's the first time – So it was cool," she said with a laugh. "But yes, I'm very happy and thanks to all the mechanics of the team for their jobs."
Overnight rain made the Quebec course muddy and slippery so the skills to manage the rooty and rocky descents on the 3.5km laps, with 160m of climbing per lap, were essential for victory.
Pieterse took over the front from Jolanda Neff (Trek Factory) on the first climb but the young Dutch rider was trying to figure out her lines. Lecomte was making her way to the front until she had to stop for 40 seconds in the mechanical zone, pushing her back to 11th place.
At the front, Pieterse continued to push the pace, gaining 13 seconds on Rissveds at the start of the second lap. Behind a chase group of Haley Batten (Specialized Factory), Martina Berta (Santa Cruz Rockshox), Laura Stigger (Specialized Factory) and Neff was forming and re-forming.
Not sure about which lines to take, Pieterse decided to use her running skills. "My tactic today was just go all out at the start and then run everything. Because I started in the front, I think the other girls had better lines than me, and I didn't know which lines to take so my tactic, keep running, running, running, which was on certain parts, not the fastest."
By the third lap, Lecomte, Pieterse and Rissveds connected at the front of the race.
"And then after Loana and Jenny catch me, I could see a bit what the good lines were. Oh, this is ridable, this is ridable and you get much more in the flow. And then I got faster again," Pieterse said.
Pieterse was also running down the rocky descents. "I just couldn't get on my bike and I felt so like an amateur, almost running down, but just in my head, I was like, OK, cross is here, so just run, it's good training."
With one lap to go, Lecomte established a gap to Rissveds while Pieterse was fighting off a late chase from Neff for third place.
Pieterse won the overall World Cup with 313 points on Lecomte. Mona Mitterwallner (Cannondale Factory Racing) finished third.
While Lecomte is looking forwards to her off season, Pieterse will line up at next week's cyclocross World Cup in Waterloo but Lecomte is looking forwards to her off season,
"It was a long week because I only think about the off-season, holidays. And I think it was my principal motivation this week. So yes. Now it's time to just enjoy time with my family, my friends, and have fun at tonight's party," Lecomte concluded.
Results
Results powered by FirstCycling

Thank you for reading 5 articles in the past 30 days*
Join now for unlimited access
Enjoy your first month for just £1 / $1 / €1
*Read any 5 articles for free in each 30-day period, this automatically resets
After your trial you will be billed £4.99 $7.99 €5.99 per month, cancel anytime. Or sign up for one year for just £49 $79 €59

Join now for unlimited access
Try your first month for just £1 / $1 / €1