Tom Pidcock wraps up season with XCO win at Mont-Sainte-Anne MTB World Cup
Nino Schurter claims ninth overall XCO World Cup season win, prevails despite tough start and chain drops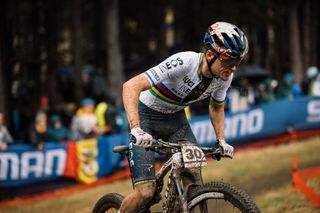 (Image credit: Getty Images)
Tom Pidcock has finished his season with a victory in the Cross-Country Olympic at the Mountain Bike World Cup in Mont-Sainte-Anne, conquering the muddy and slippery conditions to hold off Mathias Flückiger (Thömus Maxon), who had his charge curtailed by two punctures.
Nino Schurter (Scott-SRAM) secured his ninth overall XCO World Cup title, finishing 14th on the day, but still retaining his series lead with a 40 point margin to Jordan Sarrou (BMC) and 50 point gap to Flückiger. At one point, however, Flückiger looked like he could potentially threaten Schurter's lead as if he had won the final round, Schurter would have had to take the 13th spot or better to hold onto the series.

The final race of the season played out over six laps, with conditions changing vastly from the short-track, with rain making it a juggle to master the testing terrain and nurse the bikes through. Many riders had mechanical issues, from punctures and dropped chains, which played a pivotal role in the outcome.

"I tried to make as little mistakes as possible but also conserve the bike because Mathias was flying down the descents like a mad man, but he also punctured twice," said world champion Pidcock in the televised post-race interview.
Flückiger, who relished the conditions, had been in the lead early but Pidcock pulled out a solid enough gap once in front that he could ease back just a little in the final lap, pull a wheelie as he headed toward the line, and still make it to the finish with a 26-second gap to Flückiger. Marcel Guerrini (BIXS Performance) came third, more than one minute further back from his second-placed Swiss compatriot.
"I was pretty motivated to win in this jersey before the end of the year," said the rainbow jersey-clad Pidcock. "But this week was difficult, it has been a long season. I was tired, it was a bit of a struggle."
But that struggle is now over.
"That's it, I'm going on holiday now. Normally on the last lap I'd go full gas, but today I couldn't be arsed," said the holiday ready Pidcock.
He was far from the only rider with that end-of-season feeling kicking in. Schurter was clearly relieved to not only secure his ninth overall victory but also hit the end of the year of racing.
"It was a really close call, first I had a really bad start," said Schurter. "I couldn't really go hard in the first climb up and then I was stopped in the first downhill and ended up in 31st I think, then I chased back and chased back and I saw Mathias was leading and thought I need to at least get 13th, then my chain started to drop, my chain holder broke and it was a drama," said Schurter, after finishing 14th but still safely holding the title given Flückiger dropped back to the runner-up spot.
"Really happy with winning my ninth overall," said Schurter after the victory, adding that while it was an incredible season, the last part, from Andorra onwards was a challenge with illness and an inability to recover as well as he would like.
"Now I really need some rest."
Results
Results powered by FirstCycling

Thank you for reading 5 articles in the past 30 days*
Join now for unlimited access
Enjoy your first month for just £1 / $1 / €1
*Read any 5 articles for free in each 30-day period, this automatically resets
After your trial you will be billed £4.99 $7.99 €5.99 per month, cancel anytime. Or sign up for one year for just £49 $79 €59

Join now for unlimited access
Try your first month for just £1 / $1 / €1