Last minute bike flurry to get Nathan Haas on UCI Gravel Worlds start line
Australian's bike lost in transit, sponsors Colnago make last minute dash to pull last year's steed out of museum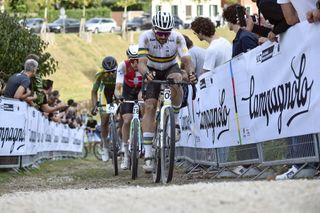 (Image credit: Sprint Cycling Agency)
Last year Nathan Haas had a special green and gold paint Colnago to match his Australian jersey as he spearheaded the nation's hopes at the first edition of the UCI Gravel World Championships. After the race it went straight to a museum afterwards, never to be ridden again … or at least that's what Haas thought at the time.
It has now saved the day, boomeranging back to the rider after this year's multi-coloured model, with pink tones morphing to blue, was lost in transit on the way to Sunday's 169km Italian race.
"Gravel Worlds almost didn't happen for me. Bike lost somewhere in airports, still not found," said Haas in and Instagram story. "Last minute SOS to my Colnago family for help."
The outcome of that SOS was that instead of celebrating Tadej Pogačar's victory at Il Lombardia, a member of the Colnago team made a quick dash to the museum in order to get last year's bike, with dirt still in place. Haas in the meantime dashed off to get a number of items such as new tyres, bidons and kit which were also missing from his supplies, as they were packed in with the lost bike.
The former professional road rider became a gravel privateer in 2022 and since then has focussed on a mix of UCI Gravel World Series, top European gravel events and US standouts such as Unbound. He has only once been out of the top seven spots in the UCI qualifying series this year and came second at The Traka 200 in April.
He was also Australia's top finisher at the Gravel World Championships last year, coming 16th on a course where many actually opted to ride their road bikes. Still 2023 delivers a more technical route to skew the equipment choices, despite having an almost 50/50 split of paved and unpaved roads. The course contains some challenging large gravel sections, technical descents and 1900m of elevation gain with a number of challenging steep climbs.
The field includes a number of top gravel names, including the US powerhouse of the discipline Keegan Swenson, along with defending champion Gianni Vermeersch (Belgium) and his compatriot Wout van Aert. Haas is once again likely to be Australia's top contender in the elite men's race, with his position on the start list indicating he is likely to line up in the second row of the start grid.
"I've only ever ridden this bike twice, one in training and once at last year's worlds," said Haas. "I think this bikes soul was destined to be ridden once more at a World Championships so let's do this."

Thank you for reading 5 articles in the past 30 days*
Join now for unlimited access
Enjoy your first month for just £1 / $1 / €1
*Read any 5 articles for free in each 30-day period, this automatically resets
After your trial you will be billed £4.99 $7.99 €5.99 per month, cancel anytime. Or sign up for one year for just £49 $79 €59

Join now for unlimited access
Try your first month for just £1 / $1 / €1