Rukhsar Habibzai - The day I left home
'It is a story shared by thousands of Afghans. It is the day we left home, left our souls and left Afghanistan'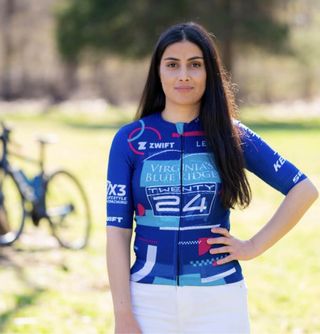 (Image credit: Virginia's Blue Ridge Twenty24 Pro Cycling)
Rukhsar Habibzai is the founder of Cheetah Cycling Club and captain of her nation's first women's cycling team, a group of ground-breaking women cyclists who were nominated for the Nobel Peace Prize in 2016 for their bravery and courage in defying gender taboos in Afghanistan.
Born in the province of Ghazni, Habibzai was completing the dentistry programme at Cheragh Medical University located in Kabul when she was forced to leave her country as part of the mass evacuation of vulnerable citizens who faced targeted gender violence by the Taliban. Now living in Virginia, Habibzai is a dental assistant and joined the Virginia's Blue Ridge TWENTY24 Cycling Team in 2022.
The days that had arrived at my doorstep sounded and felt so familiar. Almost as if I have lived them before. Taliban had been gaining control of Afghanistan again. Every day, a province fell to its power. Hundreds of thousands of girls and women lose their fundamental human rights daily. Like my mother, people knew what was coming; many were reminiscing those miserable years when the Taliban first took power in 1994. There was a constant fear of bomb blasts more than ever before. Everyone contemplated escaping from the cold and merciless days and years approaching Afghanistan. No one wanted to flee their country, but the monsters that were to devour it soon.
I was on my way to university, I felt that maybe today would be the last day to go to my college, so I pulled out my mobile phone and took a video of my way to the university. It was 7:00 in the morning. I still have those videos and sometimes watching when I miss my homeland when I reach the university. My friend called me and said, "Where are you?" I told him I was in college, and he was shocked. He said, "But you know, the situation in Kabul is not good. We don't know when the Taliban will take the country." I was speechless and answered that no one could take our rights; seeking education is our right, and we will fight for our freedom. He said to take care of ourselves; the government's condition is not good - stay home for some days. I went to my class, and everything was normal. My professor received a phone call and was silent for a few minutes. She then told us that her husband said some Taliban were seen in the city. Everyone was shocked, and everyone left the class. Three hours later, the Taliban took over the country.
I lived in a rental apartment in Kabul with my family. My father is a retired military man, and one of my brothers was in the Afghan police force. Growing tired of constant fear and anxiety about what the future held for us, my family decided that we would flee to the neighbouring country and take shelter there. I had been studying dentistry at the Cheragh University of Kabul. My family awaited me to finish my final semester before leaving Afghanistan. With daily news of the Taliban taking more Afghan territory, I started to feel unsure or stuck, should I say, between finishing my hard work of four years or just fleeing and leaving it unfinished. Sometimes I would find myself arguing with my peers about how Afghanistan will never fall into the hands of the Taliban ever again. But deep down, I was afraid that it would.
After I arrived home, I tried to keep myself together. Our house was in complete silence, in shock and disbelief. I stood over the balcony and watched as the Taliban celebrated their victory, driving through the streets of Kabul in Afghanistan's army vehicles, waving their white flag. I would get calls from my dear friends, and all I heard were sobs and shrieks, "Why us? Why us? Why our beloved country? Everything that we worked for 20 years is all gone now, Rukhsar! All gone!".
Every desperate human being looking to escape the tyranny of the Taliban saw Hamid Karzai airport as the only way out of Afghanistan as many countries were busy evacuating their associates. The rumour that the United States of America was evacuating everyone that made it to the airport had widespread, making hundreds of thousands of desperate souls crowd up in front of the Hamid Karzai airport, which made it impossible to get into the airport even for those who had American citizenship and legal documents. Many people, primarily children and women, got shot by the guards protecting the airport, and many were killed by the Taliban or simply trampled by the crowd. People pushed into the crowd more when the Taliban beat them from the back and pushed back when hit by rubber bullets and tear gas from the soldiers protecting the airport. I, too, went there hoping to leave my beloved country that now had become a living nightmare. But, after seeing innocent people get shot, tear gassed, fall from airplanes, and pass out or die from thirst, I gave up on the hope of ever getting out and returning home.
When I arrived home, I noticed I had received several messages from Miss Lien Johnson, whom I had gotten in touch with through a friend. Miss Lien Johnson had volunteered to help evacuate Afghans whose lives were in danger from the Taliban. She asked for my passport and said there was a chance to get me on one of the evacuation lists. It sparked hope in my heart but, simultaneously, fear for my family being left behind.
Just before the Taliban took over Afghanistan, I participated in a documentary that focused on the challenges and progress of Afghan sportswomen. The documentary sheds light on the bravery and strength of Afghan women to attract global attention and support. But unfortunately, it also gave away my identity, which made me fear for my own life and the lives of my loved ones. I waited for a call or a message from my team, blowing hot and cold. In the morning, I received a call from the evacuation team saying that we needed to stay prepared for a vehicle that would pick us up and take us to the airport.
After hours of waiting in the car, we were unsuccessful in our first attempt and returned home. The next day, I received the same call with similar instructions. This time, they left us (40 girls) in a small tent outside the airport in the middle of nowhere (away from the public entrances). We were told to wait there for further instructions. We ended up spending the night in the tent. We were scared since we had no protection from the Taliban, and they could come and capture us at any moment. We heard the constant gunfire all night and could not sleep due to the fear of getting caught and killed by the Taliban at any moment. In the morning, the evacuation team told us to wait until they figured out a safe way to get us into the airport. Another night we dissolved in fear, sleeplessness, and hunger. And another one after that. We ended up waiting for four days in that tent outside the airport. Still, I remember when the Taliban were shooting in the air, they hit on the electricity wire, and one man burned. These were the most challenging days of our lives. At the end of the fourth day, the evacuation team told us it was unsafe, and we had to return home. We were all tired of waiting amidst the constant gunfire and fear. Throughout the waiting, none of us ate or slept adequately. How could we?
I returned home feeling extraordinarily frail but still holding on to that spark of hope. I took a shower. While showering, the shampoo bottle fell; I thought someone had attacked me. I said to myself, "No, Rukhsar, you are not strong. Are you scared of a bottle?" At that moment, I felt very hopeless. I cried in the shower while I told my team to stay strong through the firing, but I feared the sound. Those firing sounds were hacked into our minds.
The next day, I had breakfast, packed my backpack again, and prepared to try again to leave the house. It was hard to say goodbye to my family, especially my mom. We ate our breakfast. I was with my sister and my nieces. We went to the airport. Luckily, the Taliban opened the checkpoints for people, and we immediately ran toward the checkpoint. When I reached it, they blocked us with a wire, and I fell on the floor because hundreds of people were trying to enter the checkpoint. They pushed, and I fell. The Taliban was shooting at the people to stay away from them, but I kept myself in that location very close to the knees of a Taliban member. I couldn't stand up because hundreds of people were pushed into the checkpoint. When they shot, the gun handle hit my head. I was trying to stand up, but I couldn't. I was yelling loud and crying. I thought my ears were only hearing my voice. One of the Taliban let me enter the checkpoint, but when I entered, I felt hopeless and terrified, and my whole body shook. There were three checkpoints. I passed one of them, but two others were left, and we waited for five hours to open the next checkpoint.
I had my 18-year-old nephew with me, and the Taliban beat the boys, and they wanted to separate them from the women. I stood in front of my nephew, and they hit me with a pipe on my back. My whole body was numb at the time. I could not feel anything; I didn't feel any hunger or thirst. We waited under the sun with a dozen of people. I was praying I could go to the next checkpoint, but there were too many people. Some of them waited for days and nights, and after 2:00 pm, they opened it. Luckily, I could pass through, and we started running toward the next checkpoint, and luckily, again, I made it. I imagined myself as a hero in a movie when they won the war. I felt fortunate, but who knows, we struggled every second to get there.
When I saw the American military, I felt safe. I felt like a kid who needed her mom to save her from people who harmed her, and I started crying. The place was filthy. It was a trash area with a horrible smell. We waited and held hope that we had to wait for the military in order to continue.
They called people with whom they had documents, and the Taliban started checking our backpacks. They told us two boys had a black bag packed with full bombs that might blast. I felt my heartbeat in my mouth and heard that everyone in the area was hopeless and counting when the bomb would explode. I thought about where they sat, maybe next to me; if it blew up, my body parts might not be found. It was terrifying for everyone, but we had no option but to leave that checkpoint.
Finally, we entered the last gate controlled by the UK military. I slept all night and waited for the soldiers to evacuate me. I waited for one night in the dust, a bad smell, and no water, but I still held hope. We stayed the whole night, and I had my backpack used as a pillow and slept. I dreamed my mom was calling me to wake up and that breakfast was ready. When I woke up, it was 5:00 am, and I saw a filthy place with many people sleeping in every corner and many soldiers from every country. I checked my phone, and the evacuation team told me to find the Polish military and wait for its soldiers, that they would come and pick me up.
I waited for an hour, but they never came, and it was tragic for me to see how my people were begging soldiers to help them and how they behaved toward people. Kids were crying, and everyone was calling for help - I will never forget these sounds.
I was crying, but I was also on Italy's evacuation list, so I texted them, and they told me to find the Italian military. I was trying so hard to get inside the airport. By this time, it was 11:00 in the morning, and all soldiers came, but the Polish weren't among them. A friend helped me find the Polish military; she texted me the information, and I showed the message to a soldier, but he was rude and not helpful— finally, someone helped, who then asked if I had a visa. I showed the email from State Government, and he said, "Follow me." After sleeplessness, hunger, shooting, and countless suffering days, we entered the Kabul airport.
It is a story shared by thousands of Afghans. The day we left home and became homeless, we left our souls and left Afghanistan.

Thank you for reading 5 articles in the past 30 days*
Join now for unlimited access
Enjoy your first month for just £1 / $1 / €1
*Read any 5 articles for free in each 30-day period, this automatically resets
After your trial you will be billed £4.99 $7.99 €5.99 per month, cancel anytime. Or sign up for one year for just £49 $79 €59

Join now for unlimited access
Try your first month for just £1 / $1 / €1