Ellen van Dijk - Leading by example
'I have the chance to show the world how normal it should be to perform at a top level as a mother'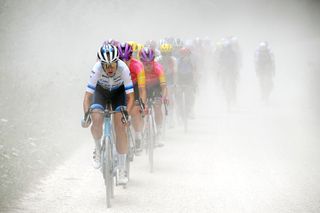 (Image credit: Getty Images)
The news is out!
Finally, at the beginning of March, I was able to tell everyone about the big secret I had been keeping... I am pregnant!
From the moment we knew, Benjamin and I were so excited about it. We basically wanted to tell everyone we know. But of course, we didn't. We had some time to keep it our little secret. Well, our secret, plus my coach, doctor and DS's secret.
That's the strange reality of being a cyclist. When other people call their parents first, I had to share our delicate news with the team. However, I am lucky enough to be in the best team possible to be in this kind of situation.
The positive pregnancy test was during training camp in January, which made it easier to tell the team straight away. But to be fair, I was still nervous. I realized it would have a big impact on our team. It was already January; it wouldn't be easy to sign a replacement for me, and only a few months earlier, I had signed a new contract with the team for two more years.
But there was no need for my nerves. Everyone I told reacted super-enthusiastically, and everyone was excited for us. It felt like a big weight had come off my shoulders. Of course, I already knew how the team had handled the pregnancies of Lizzie Deignan and Abi van Twisk.
Trek-Segafredo is leading by example.
The Cyclist's Alliance has also been key to implementing UCI rules which are necessary for the growth of women's cycling. It is because of their work that there are now UCI rules for maternity leave and minimum salary. Our sport is making huge steps forward, and I feel privileged to witness the growth of my beloved sport.
Five years ago, I never would have thought to combine pregnancy with an active career. The few existing mums in the peloton took a sabbatical or were out of the sport when they were pregnant.
Lizzie Deignan is a role model in the revolution of our sport. She ended the contract with her former team during her first pregnancy. Back then, Trek- Segafredo was just starting the women's team, and they signed her as the first rider on the team. From that point on, the ball started rolling. Something which should have been normal, but wasn't, slowly became common practice.
At the moment, more women have chosen to extend their career and combine it with pregnancy; Chantal van den Broek-Blaak, Joss Lowden and Omer Shapira.
Women see and have different opportunities because of the new pregnancy rules. Lizzie showed that a mother can win big races, she showed what a mother is capable of. With the support of my team, I also have the chance to show the world how normal it should be to perform at a top level as a mother.
Our generation is lucky enough to experience this necessary change. I hope by the time our little boy or girl is older, we can tell him or her about this change and that he or she will react with disbelief: so, it wasn't normal in the past?!
Ellen van Dijk has been competing for 18 seasons in professional cycling, having started her career in 2006. She is one of the most experienced and reliable domestiques in professional cycling and an all-around versatile athlete with numerous victories to her palmares, including the Tour of Flanders.
Van Dijk enjoyed one of her most successful seasons in 2022, having smashed the UCI Hour Record in 49.154km and then secured her third career world title in the individual time trial at the UCI Road World Championships.
Van Dijk is currently on maternity leave for the duration of 2023 and aims to return to competition in 2024, under contract with Trek-Segafredo, and with a target placed on the Olympic Games in Paris.

Thank you for reading 5 articles in the past 30 days*
Join now for unlimited access
Enjoy your first month for just £1 / $1 / €1
*Read any 5 articles for free in each 30-day period, this automatically resets
After your trial you will be billed £4.99 $7.99 €5.99 per month, cancel anytime. Or sign up for one year for just £49 $79 €59

Join now for unlimited access
Try your first month for just £1 / $1 / €1