Nathan Haas blog: We need to talk about the Unbound mud pit
Was it wrong to not re-route the course?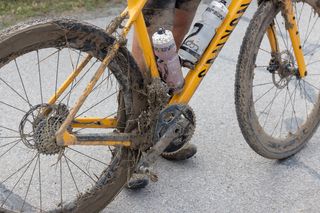 (Image credit: Snowy Mountain)
The sun has now set over the hills on Kansas, bikes now clean and packed away, and all riders accounted for. Unbound for 2023 is over. Yet, there remains a question - a debate perhaps - over one short section of the course, which ultimately led to the concerning rate of non-finishers.
This question is not focused on the front of the race. They (we) have our feelings and opinions on the day, but the pro riders are expected to be there, and will be back regardless.
Rather, I encourage this debate for those who've paid their way to the event, perhaps even waiting years to win their lottery ticket to be allowed to race. For these riders who've dreamt of taking on this incredible feat, devoting time, energy and money, was this really fair?
We're always reading articles on the pros, but, for me, mass participation events are exactly that, for the masses, regardless of speed or ability. So this is why I ask this question: was it wrong to not reroute the course?
The section of course in question is known as 'D hill'. It sits 10 miles into the race and was last used in 2015, the infamous year of peanut butter mud and spectacular attrition rates. It was a very welcome re-addition to the course as it is a hard series of punchy climbs and fast descents which, in dry conditions, would set the tone for the race, and split the fast from the slow. The only fear, is if it was wet again.
I rode this section the day before the race in the dry, where I met the owner of the land whose house sits neatly tucked in beside the top of the climb, marked by a beautiful red painted wooden barn and a very big USA flag proudly mounted onto a tall white flagpole. It's Kansas after all. Quite a character.
He showed me his truck, one with wheels as high as my chest, and tires that looked like they've been taken from an army tank. He told me that if it's muddy, this is the minimum requirement for him to be able to drive to work and back, and that he'd had other 4x4 cars stuck in the pit for days at a time in the past. This section of road is infamous in the area. All the locals know it's a mud pit. So it's safe to say that it's a known quantity that this part of the course would be outrageously bad on bikes if it were to be wet again.
Murphy's law, which states 'If it can go wrong, it will', was truly in force. The storm of all storms rolled into Emporia the Friday afternoon, right in time for the 350-mile race to begin at 5pm. Clearly, this was just bad luck for these brave warriors looking to ride through the night. The conditions they faced were horrid, and I was informed by a film maker at 5:30am the next day that almost 80% of the riders in this category had DNF'd.
The rider in the lead, on a mountain bike, had been three hours behind the leaders at the second feeding opportunity, had crawled back all this time as the fastest riders were unable to ride the sections he could. Blessed by the weather gods perhaps. At this point, this event was just facing bad luck, and that happens - you can't change a race once its started.
But what about the 200-mile race?
The marquee race at UNBOUND is the 200-mile, which sounds easy compared to the 350, right? But let's use kilometres now, and 331km of gravel... there's no easy way to put it, it's one of the hardest days on a bike that any person will ever endure.
This is perhaps the point. This race is already epic. How hard does something need to be these days to be considered hardcore? Is there a point that if we can make something a little easier on the riders we should?
When you think that for the average person, with full time work, a family perhaps, 8-10 hours of training per week, Unbound will take them between 14-18 hours in good weather. From a physiological standpoint, the race is basically double their average training week, and that's just in one ride. That in itself is an incredible delta, and should be both admired and respected.
There was a viable option to reroute the course, which would have been mud free. Yes, it would have been wet, but not mud. It would have been easy to marshal as it was so early in the event that there would have needed to be marshals with flags for at most a few hours before we re-joined the part of the course that was ridable at kilometre 35.
So why didn't they do it? In the name of being more epic? In the name of gravel? Whatever the reason was, at 4am the organisation decided not to reroute the race and I feel that this needs to be spoken about.
Mud and tears
I only saw first-hand the emotions for the riders in the front. Having spoken to riders who survived these sections with the front, they didn't mind it so much. Again, my bias here is obvious, but in any race, making a front group through a difficult moment you will likely see it through rose-tinted glasses. There were other riders however, who've won the race in recent years stuck where I was, in the pit, cleaning their bikes in muddy river streams, running, walking, carrying their bike, trying to use quick chain links in a chain they couldn't even see the links to. I saw frantic behaviour, frustration and even tears. And this was just the front group.
I'm no purist that likes perfect conditions. I like it as wet and slippery as the next guy, but I feel these conditions were a bridge too far for the simple fact that we all love to see - and participate in - a hard race, but nobody likes to see or feel injustice in a sporting event. The fact that there was an option to avoid this with a simple rerouting? I'm sure hindsight after the event is clearer than any decision made at 4am for the organisers, but I feel it's a shame a change wasn't made.
I don't feel as sorry for the front of the race as I do the rest of the participating field. Unbound is the Superbowl of gravel, but what's even cooler about that statement is that it's not just the winner, but everybody who finishes this incredible feat is a champion.
It's really no joke, nor is that an understatement. People fly from across the globe, spending thousands of dollars chasing the dream of completing the amazing event. For the many that didn't make it past mile 25, that is a hard reality. It's like rolling your ankle running on the field before the game starts.
I drove back from mile 30 in a truck, wrapped in newspaper so to not dirty a helpful stranger's car, and I saw a miles-long, continuous line of people carrying bikes through what felt like an endless pit of mud. People sat down from exhaustion, curled over their bike with sticks trying to clear the mud so they could try to ride, to little avail.
It would have added to the accomplishment, no doubt for those who could finish, but for the huge number of people that simply couldn't, I feel that's a shame. Now, if the mud had been unavoidable, and perhaps everywhere on the course, you could say that is just force majeure, but in my eyes, this first section that ended so many athletes' day, it's a hard pill to swallow.
Then add the fact that we all likely need to replace every bearing and moving part on the bike? I've even heard of many who've burned holes in their carbon frames as the stone filled mud ground through the layers of paint and into the bike itself.
Now does this mean I don't love Unbound? Absolutely not. We will all be back next year and I think the event promoters need to still, unequivocally, be applauded for the most incredible race on the calendar. But I do hope that in the future if such a scene can be avoided, perhaps they will.
I'm totally prepared to have mud thrown at me, again, for this opinion. But it's worth discussing. I have strong conviction in my opinions, but they are loosely held. That is to say, I would love to hear more opinions on this, and if any argument adequately changes my view, my opinions will change on this also.
In the truest spirit of the sport, I just want people to enjoy riding their bikes to the maximum. Cycling is of course a huge part of my essence, as I'm sure it is for anybody who's made it this far in this piece. Call me soft, call me frustrated at my own result here, I'll agree.
But it's really not me I write this for. It's for the simple sake of opening a discussion that might have an impact on future events so that we can all just ride our bikes and have some fun.

Thank you for reading 5 articles in the past 30 days*
Join now for unlimited access
Enjoy your first month for just £1 / $1 / €1
*Read any 5 articles for free in each 30-day period, this automatically resets
After your trial you will be billed £4.99 $7.99 €5.99 per month, cancel anytime. Or sign up for one year for just £49 $79 €59

Join now for unlimited access
Try your first month for just £1 / $1 / €1