UCI Gravel Worlds - new course, same criticisms cast doubt on event
Nathan Haas hears feedback from fellow riders on course elevation being 'selective without being stupid'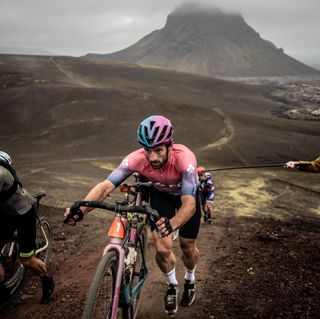 (Image credit: ©GravelEarthSeries – The Rift)
The second UCI Gravel World Championships are just a few short weeks away. Will it play out like the first? Will we see more dedicated gravel riders coming into podium contention? And how do we all feel about it?
Last year, the inaugural UCI Gravel World Championships in Veneto were, for the most part, a huge success given the extremely late planning. The course received much criticism for being too much road and not enough gravel, which was perhaps a fair appraisal as most athletes rode on road bikes with slightly wider tyres.
However, the backstory few have mentioned is that the organisers had to throw the event together with very limited resources. Likely, we might see a similar scenario with the events that have unfolded in the last weeks.
PP Sport Events, the organisers of last year's event (on a multi-year contract), had their management rights revoked for the event by the UCI just a month ago, leaving riders wondering if, and where, the event would take place. Thankfully, three weeks later but just three weeks before the race, a course was announced.
An impressive turnaround yet again, but one that's left riders from around the world scrambling for last-minute flights, hotels and ground transport. Perhaps it won't have a huge effect on the elite fields, but in the age group categories, I can't imagine too many coming from outside of Europe this year.
So we have a new course, and new organisers, but perhaps some similarities to last year.
The course starts at Lago Le Bandie in Treviso, completing a 46km stretch towards Pieve di Soligo to pass the finish line for the first time. The race then completes multiple finishing circuits which feature some extremely steep climbs and a number of gravel sectors. The men's elite race is 169km with almost 1,900 metres of elevation, whilst the women's is 140km with 1,660 metres of elevation gain.
Both races have a particularly gruelling finish with a big climb 5k before the finish. The weeds will definitely be pulled out on that one, and we can only imagine a small select group coming together for the final moments.
Again, the course takes on a lot of paved sections, quite different to the full gravel courses those dedicated professionals are used to. Germany's Paul Voss, winner of 2023's The Traka, thinks that it is again going to be more like a road-suited course.
"There are gravel parts, and whilst we have really steep climbs, they are mainly on asphalt. So it's still not the course we wish for regarding what we call a gravel course, or gravel racing," said Voss, who finished in the top 30 of the inaugural championship.
He considers it a big step forward compared to what we raced last year. He also notes it is hard to tell as the only information about the route so far is on the cycling app, Komoot.
"It will be a more open race and will have more chances for pure gravel riders to compete with the road riders. The course elevation will be selective enough without being stupid. It looks online as though it should be a balanced course that could even see a small group sprint."
Piotr Havok, the highest-placed non-WorldTour rider at last year's World Championships in 12th position, feels that the course is an improvement on last year, so that's a good thing.
"It looks as though there are more technical sections than last year and that the first 50km is hard enough to form a selection before a race decisive final with steep hills."
On the first circuit outside Pieve di Soligo, we will ride further to the north around the Lago di Lago and take on the ascent of the Ca' del Poggio climb (1.2 km at 12.2%) around kilometre 85. With a decisive climb mid-way in the race, we might see some of the strong men fade, offering more chances to nimble, smaller riders.
This is where it could get interesting. When you look at the top 10 (or 20, since I so want to include myself here) from last year, it was a lot of 'sprinter-type' riders - the guys who race 'cross, the mountain bike trained, and the heavy hitters of the Classics.
When we add in the elevation, will our typical climber WorldTour and ProTour pros hold up against the gravel specialists? No doubt the climbers can drop riders on the steep climbs, but can they hold them off on technical, unpaved downhills and flat sections?
Unbound Gravel 200 winner, Caroline Schiff thinks that the steep climbs will make the race interesting, especially the final climb before the downhill finish.
"After 140km everybody will be tired, so It's just down to who is the freshest and how big the group is at the finish," the German rider said.
Decisions tactics not just tyres
As a favourite for the women's race, Schiff thinks, from the course available online, it looks like there is a lot of tarmac, so is already considering a smaller, faster tyre and perhaps a fast bike (road bike), but feels it's hard to decide before doing a recon. She is mainly curious about which women will be on the start line, as it will change her tactics based on who is there.
This is really the only race on the calendar that features a shorter course for women. So realistically it's actually significantly shorter than most of the races the dedicated gravel professionals race each year. I imagine this could lend itself to a hybrid road and gravel pro, one of the many who have honed their skills on punchy races such as this, as opposed to the slow, long-distance ultra slogs that many of the biggest gravel races are.
Tiffany Cromwell (Australia) could easily have her eye on that jersey, or a punchy rider like Heidi Franz (USA), winner of this year's Ranxo Gravel race and Egmont Cycling Race, might be well suited to the split of terrain.
One welcome addition to this year's race will be the much larger and more official team fielded by USA Cycling for both women's and men's fields. Undoubtedly the home of all things gravel, the US talent coming out of North America is unparalleled. This year it seems that the USA is sending a very competitive team to race for the rainbows, including Keegan Swenson, Payson McElveen, Lauren Stephens and Sarah Sturm.
This adds a huge amount of horsepower to the side of the gravel-specific riders to race against the heavily tactical WorldTour riders. I for one, am beyond excited to see these riders who have been sweeping the scene in the American races against the WorldTour pros. Their team could be the one to beat, with a huge amount of experience, a common goal (perhaps) and just incredibly strong riders.
We have yet to see confirmation, but it is likely that Mathieu van der Poel (Netherlands) and Wout van Aert (Belgium) will be racing so it will be an enormous challenge for the gravel riders, especially given the amount of tarmac in the course, and these riders' technical abilities off road. Will we see more of the WorldTour climbers? Can we convince any to come test their legs the day after Lombardia? It's certainly doable, and maybe the right time for Tajej Pogačar to gain some rainbow stripes?
Although I'd like to, I cannot speak as the voice of gravel, but a general feeling between the riders, myself included, is that we have all learned to see this event in a different light to what we did last year. We understand that there will be team tactics, we understand that the style of racing, the speed, the accelerations, the course, and the bikes are all different to what we are used to. It is an event we all hold great respect for, and all want to win, but understand that it just simply isn't what we'd call 'gravel'.
Maybe this is a good thing. Perhaps it's just a stand-alone style of event in our calendar. And most definitely it's still possible to win if any of us are good enough. Yet it begs the question; is it a shame for a WorldTour rider to win again?
I saw only the rainbow jersey twice in gravel races this year, but I guess that's the privilege of winning, you don't have to show it off to still be the world champ! I think our best bet for a gravel rider to win the rainbow will be in Australia in 2026 when clearly no WorldTour contingent will turn up, but hey, it won't stop any of us from trying before then.

Thank you for reading 5 articles in the past 30 days*
Join now for unlimited access
Enjoy your first month for just £1 / $1 / €1
*Read any 5 articles for free in each 30-day period, this automatically resets
After your trial you will be billed £4.99 $7.99 €5.99 per month, cancel anytime. Or sign up for one year for just £49 $79 €59

Join now for unlimited access
Try your first month for just £1 / $1 / €1