Lauren Stephens aims at Gravel World Championships after landing new team
American focussed on Paris 2024, signs with continental Cynisca team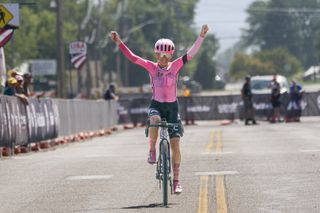 (Image credit: Craig Huffman/USA Cycling)
Lauren Stephens has had mixed fortunes this year but they made a turn for the better in recent weeks, with the American signing a new contract with the US-based Continental team Cynisca and winning the stars and stripes jersey in gravel racing.
Stephens' long-time road team met its end after Silicon Valley Bank failed, TIBCO ended its sponsorship and EF Education moved to the new women's team owned by the same parent company as the men's WorldTour team. Stephens wasn't among the riders snatched up despite her still being at the top of her game at the age of 36, leaving her searching for a team in August. It was poor timing for a rider with ambitions of making the USA's team for the 2024 Paris Olympics.
The silver lining until now has been her foray into gravel racing. She won the 'Gravel Worlds' (unofficial) and the inaugural USA Cycling Gravel National Championships in quick succession and, thanks to her victory in the latter, pocketed a cool $12,000 and a full ride to the UCI Gravel World Championships, which take place on Saturday in Veneto, Italy.
"That was a huge motivation when they announced that," Stephens tells Cyclingnews of the federation's support for Worlds. Last year, she paid her own way and she and her partner provided mechanical support for each other. This year, she'll have soigneurs, mechanics, and travel costs covered.
"I had my husband there with me last year, but then he was racing the next day. So he was having to sacrifice - he was there helping Emily Newsom and me, taking care of us, then overnight we had to switch places. We'll still both be there and be there helping each other, but we'll have more people around so I'm not fully having to think about everything."
The support takes care of a lot of logistical headaches, freeing riders up to focus on the race. "With the gravel, I don't know which tires I'm going to run if I'm going to need more sealant or something else in case something goes wrong - it's a lot of stuff to pack. Knowing that you've got a team of support there is really nice. And they've actually opened up the support to all the riders on the team, and that's great."
The cash came at a welcome time as Stephens fields calls trying to ink a contract for the 2024 road season. Women rarely get a five-figure prize and it's even rarer at a national championship.
"We don't even have prize money at road national championships! Pre-COVID we had like a small amount of prize money for nationals, but we haven't had any since. So I wonder if they can spread this out among the other disciplines."
The Gravel World Championship course was changed at the last minute with the UCI replacing the original organisers who shifted the route further north to add more climbing after last year's road-friendly course won by Pauline Ferrand Prévot and Gianni Vermeersch.
"I got really excited when they changed the course and I saw that it was going more North. Even before they released the GPX, I've raced in that area at the Giro so I knew if they were going north there's definitely more chances of it getting hillier. Even last year, you could see the hills in the distance from where we were. Having the hills more towards the end, I think it could come down to a lot of teamwork. Having a team in those flats is important. And then yeah, once we start getting into the funkier stuff, it'll get be like a classic style race, I would think."
Stephens just hopes to have a better time this year than when she came into the 2022 inaugural edition after being sick in the lead-up.
"I ended up in the main breakaway, but at 30k to go I ended up in a full body cramp. The race wasn't crazy long - there wasn't really any answer to why that would have happened to me except that I'd been sick and my body just wasn't ready. So that was pretty disappointing. I've never been in a breakaway situation where I couldn't pull through. They were all yelling at me and I'm like, 'I'm not faking I promise'. Finally, we went around a steep switchback section I cramped. I ended up just nursing myself in and I think I finished in a top 20."
When Cyclingnews spoke with Stephens, she had been working nonstop to find a new team after being "a bit lost" following the news that her current squad would end after a decade of racing with them.
"I can't believe I've been on the same team pretty much my whole career as a professional rider. I definitely went through feeling a bit lost because it has been my home for the last 10 years.
"There are some options out there but I'm trying to figure out what's the best option for me - if I stick with the road and still do gravel with road being the priority or if I go full gravel, privateer. Those are the two main options."
Option one it is with the contract at Cynisca, and her hope for the Olympics comes after some solid results this season. They include the silver medal at the USA Cycling National Championships just nine seconds behind Chloé Dygert in the 23.2km time trial, and fourth in the Chrono de Gatineau just five days after the 130-mile Gravel Worlds.
"That's the main reason I'm wanting to stick with the road - after finishing second in the TT at Nationals this year. I guess that showed me I have the opportunity to go to the Olympics and a road team is going to be able to provide that support in preparing for the time trial. And the time trial would be my way into the Olympics, and then I would get to do the road race if I was selected for the TT."

Thank you for reading 5 articles in the past 30 days*
Join now for unlimited access
Enjoy your first month for just £1 / $1 / €1
*Read any 5 articles for free in each 30-day period, this automatically resets
After your trial you will be billed £4.99 $7.99 €5.99 per month, cancel anytime. Or sign up for one year for just £49 $79 €59

Join now for unlimited access
Try your first month for just £1 / $1 / €1