Tiffany Cromwell reboots attack mode ahead of Gravel World Championships
'I know in gravel I can be competitive' says Australian who is among the rainbow jersey favourites in 2023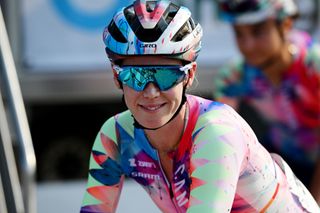 (Image credit: Getty Images)
Usually when Tiffany Cromwell lines up against the likes of Lorena Wiebes she is working for the results of her teammates, but when it comes to gravel that changes – the domestique becomes dominant.
When the rider from South Australia lined up among a field of some of the World's best riders at the European Gravel Championships last weekend – also the final qualifying race for the 2023 UCI Gravel World Championships – she delivered a reminder that when it comes to the growing discipline she is a force to be reckoned with, no matter who she is up against.
The Australian had entered the event in Belgium knowing she couldn't claim the title, given her nationality, but was looking for a hard hit out ahead of the Gravel World Championships on Saturday. Cromwell certainly got that, and plenty more.
The 35 year old Canyon-SRAM rider forged ahead early in the race as part of a powerful group of four including top Dutch sprinter Wiebes (SD Worx) – who has 71 road victories to her name – world cyclocross champion Fem van Empel (Jumbo-Visma) and Elena Cecchini (SD Worx).
"I could have just gone with them to the finish line, knowing I'm not going to beat Lorena in the sprint … but then there was this one little climb a few kilometres from the finish and I was like, I might as well try," Cromwell told Cyclingnews.
"It's good for my confidence to challenge because I think, you know, sometimes, when you race in particular on the road as a domestique you forget how to attack."
Her supremely successful gravel season, however, has clearly helped remind her of the art.
"With gravel, I take a completely different outlook to how I am on the road," said Cromwell. "Obviously, I know in gravel I can be competitive."
It is in fact a discipline where Cromwell has not just been competitive this year but has repeatedly found herself on the top step of the podium, which was again the case in Belgium last weekend.
Cromwell, who took her last road victory in 2017, was first over the line at the European Championships, crossing ahead of Wiebes, who claimed the European title, and Van Empel.
"I definitely surprised myself a little bit with that one and obviously it was a great feeling," said Cromwell.
The podiums roll on
Standing on the top steps of the podium is also a feeling that is becoming all the more familiar to Cromwell as she delves further into the off-road discipline. Gravel delivers a style of racing that clearly suits her, with the evolution of the UCI World Series and World Championships also adding a whole new swathe of events which seem to hit the ideal length for the road crossover rider as they tend to be shorter than the ultra long-distance races that headline the established US scene.
After a strong result on last year's less than technical World Championships course in 2022, where she came sixth, Cromwell shot into a new gravel season in 2023 with a spectacular run of results. It started in Australia, with victory at the nearly pure gravel course in Nannup, which will host the 2026 World Championships, and then she also went on to win her next Gravel World Series race, at The Gralloch in the United Kingdom, before heading over to take on and win the 100 mile race at Unbound. After that, it was FNLD GRVL and another top step of the podium.
The next gravel block and Cromwell was again back near the top of the results sheet, taking second at SBT GRVL in August despite the fact that the 142 mile distance (228km) stretches well beyond the length the rider is accustomed to racing on the road. She also came second at the 128 mile Belgian Waffle Ride in Utah. After bolting back to Europe in September for the Monsterrato Gravel World Series race it was a rare off-podium finish with fourth. Then, with a patch of road racing in between, it was onto the European Championships and a victory that clearly showed how strong her gravel form was just a week out from the all-important 140km rainbow jersey race in the Veneto region of Italy.
"It gives me that bit more confidence for this weekend. But I also know this course is a very, very different course to last weekend," said Cromwell mid-week, adding that the course of the European Championships race felt a little like a Spring Classic with a gravel twist.
The World Championships course from Lago Le Bandie to Pieve di Soligo, on the other hand, has a considerable amount of climbing, 1660m of vertical gain, and is just over half unpaved.
"I would say it's probably not as favourable as, yes I can climb okay but I wouldn't say I'm the best climber and the very steep stuff…," said Cromwell trailing off, adding that she thought getting the bike set up right would be a crucial factor while a course with more gravel would also mean she would have a better chance of fending off rivals who rarely deviate from the road.
"But of course I know my form is good and my motivation is high, I'm not coming off a very heavy road season where I'm done at this time of year, so I think that definitely is a good benefit. We just have to see as those climbs are really really steep but some of the technical descents can be good for me."
What next?
After the World Championships Cromwell has one more gravel race on the agenda this year, the Belgian Waffle Ride in Kansas on October 14, and then her attention is likely to switch focus at the start of next year.
"I haven't forgotten about the road and there still are some ambitions there so I still will probably do a split season in 2024, probably a bit more road focussed early on because, I want to see if I can get that back into the national team selection," said Cromwell, who has added another year to her Canyon-SRAM contract.
The rider may be the most obvious choice to represent Australia on the gravel, but after a long stint as a regular pick to fly the flag for Australia in the Road World Championships the experienced Australian has missed selection on the national team for two years running.
"That [the road] is where I'll probably be a bit more focussed until the selections are done, then seeing how I fare, start to transition more into doing both gravel and road again like I have done. But then I'll be turning more focus, probably towards the end of the year, on gravel because obviously World Championships are in Belgium next year on a similar course to what I've just done," said Cromwell referring to the European Championships route.
It is clear, after her winning result at the race which was somewhat a test event for next year's rainbow jersey race, that the 2024 Gravel World Championships is likely to deliver a course that suits Cromwell so, no matter what happens this Saturday, her rainbow dreams are far from over.

Thank you for reading 5 articles in the past 30 days*
Join now for unlimited access
Enjoy your first month for just £1 / $1 / €1
*Read any 5 articles for free in each 30-day period, this automatically resets
After your trial you will be billed £4.99 $7.99 €5.99 per month, cancel anytime. Or sign up for one year for just £49 $79 €59

Join now for unlimited access
Try your first month for just £1 / $1 / €1