Packed women's elite field for UCI Gravel World Championships but no sign of broadcast
UCI respond to widespread consternation with promise of mandatory TV coverage from 2024 onwards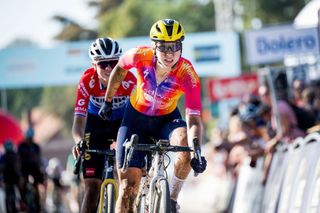 (Image credit: Getty Images)
Women's live race coverage can sometimes be patchy in cycling but usually UCI World Championships are an event that can be relied on to always deliver. That, however, doesn't appear to be the case when it comes to the UCI Gravel World Championships in Italy's Veneto region this year.

In the first edition of the UCI World Championships in gravel, a discipline which has historically evolved with equity as one of its cornerstones, there was live streaming of both the women's and men's races, so it came as a surprise when it emerged just before the event, via social media, that this wasn't going to be the case in 2023. A broadcast of Sunday's men's elite race will be available, but there was none for Saturday's women's event, which is filled with a deep field of top riders from across disciplines.
"Sadly the women's is not being broadcasted so we cannot provide footage," said GCN Racing on social media in reply to a query on whether it had coverage of the race for the gravel rainbow jersey this year. They will, however, have access to footage of the men's race on Sunday.
The provision of live race coverage has been an ongoing issue in women's road racing even in the very top tier of racing. The Giro d'Italia Donne was downgraded from Women's WorldTour status for a year after not delivering the required live coverage of the 2020 event. RideLondon Classique was also temporarily put in the calendar as a 2.Pro event for 2023 after failing to meet its live coverage requirements in 2022, however was put back to its top tier status when the organisers provided evidence of a contractual commitment to broadcast all stages of the race live this year.
Still, a live broadcast of both the men's and women's racing across the UCI World Championships has long been a given across the disciplines such as road, cyclocross and mountain biking, as well as being routinely delivered in World Cups across the off-road racing.
The governing body responded to the widespread consternation that quickly flowed via social media with a statement, saying that it had been informed by the organising committee of the race that there would be no live broadcast of the women's race "due to no TV production".
"The UCI regrets this decision and invites all fans to follow the race live on social media," said the UCI through a press release. "Fans will also be able to follow the race via the riders' lap times.
"As of the next edition of the UCI Gravel World Championships, UCI will make it mandatory for event organisers to provide TV production for both the Men Elite and the Women Elite races."
The lack of live coverage comes in an edition of the Gravel World Championships that has had its share of challenges, with the organisers of the race changed last minute and course details released just three weeks out. Nevertheless, the growing discipline attracted a bumper field for the women's race, with the start list running to well over 100 and including some of the biggest names from the road and gravel arena.
While defending champion Pauline Ferrand-Prévot (France) was unable to line up because of COVID-19, new European Gravel Champion Lorena Wiebes will be on the start line alongside a powerful list of road teammates and rivals. They include Demi Vollering, Kasia Niewiadoma, Ashleigh Moolman-Pasio, Gaia Realini and Silvia Persico. Then there is crossover road/gravel rider Tiffany Cromwell who has been a force in the discipline this season, most recently crossing the line first at the European Championships but unable to claim the title due to her Australian nationality.

On top of that, the top gravel specialists have turned out in force as well, from UCI Gravel World Series points leader Tessa Neefjes to Unbound winner Carolin Schiff and clear-cut LifeTime Grand Prix series leader Sofia Gomez Villafañe. The impressive field, combined with a 140km course containing steep climbs and challenging technical sections, seems set to deliver what should be an exciting race to watch unfold... If it were possible to do so.

Thank you for reading 5 articles in the past 30 days*
Join now for unlimited access
Enjoy your first month for just £1 / $1 / €1
*Read any 5 articles for free in each 30-day period, this automatically resets
After your trial you will be billed £4.99 $7.99 €5.99 per month, cancel anytime. Or sign up for one year for just £49 $79 €59

Join now for unlimited access
Try your first month for just £1 / $1 / €1